Frame-A-Face Facial Recognition Cropping Software
| | |
| --- | --- |
| SKU: | Frame-A-Face |
| Availability: | In Stock |
Frame a Face is a state-of-the-art application that uses facial recognition software to crop large batches of images. Load hundreds of images, set the cropping parameters and let your computer do the work.
Frame a Face's sophisticated facial recognition library will locate the subject's facial features and apply a precise, uniform crop according to pixel dimensions defined by the user.
Frame a Face is designed specifically for professional school or sports photographers who process large batches of images. Frame a Face has quickly become an integral part of a professional photographer's workflow, cropping hundreds of images into neat, uniform portraits in a matter of minutes.
Frame-A-Face can cut valuable time from your current digital image workflow. Built especially for portrait photographers, this state-of-the-art software uses advanced facial recognition technology to scan hundreds of images and apply user-defined crop dimensions.
The Frame-A-Face facial recognition cropping system is quickly becoming an essential tool for any photographer in a high-volume production environment. This includes large image processing centers, as well as local photographers who just contracted their first school or sports league. Many processes in a high-volume digital workflow are still repetitive, where adjustments are applied to each image in a large batch. Frame-A-Face uses facial recognition technology to take one of these workflow processes—in this case cropping—to the next level of automation, cutting time from image processing and saving money.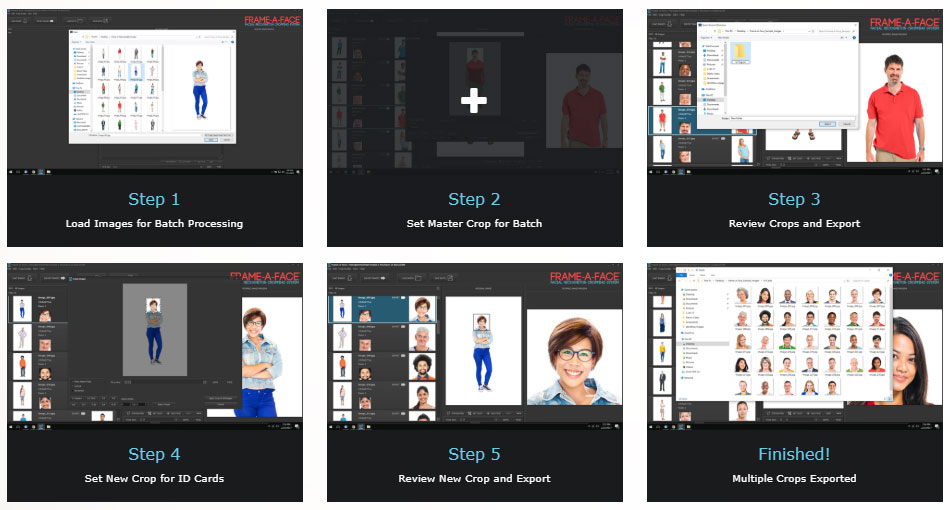 This product is delivered by email.